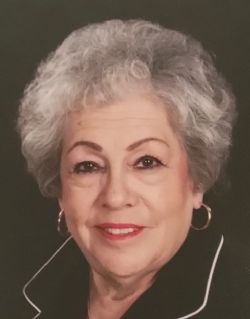 Visitation
Grimes Funeral Chapels
728 Jefferson St.
Kerrville, TX 78028
Friday, November 19, 2021
4-6 PM
Map & Directions


Send Flowers
Rosary
Grimes Funeral Chapels
728 Jefferson St.
Kerrville, TX 78028
Friday, November 19, 2021
6:00 PM
Map & Directions

Mass
Notre Dame Catholic Church
909 Main St.
Kerrville, TX 78028
Saturday, November 20, 2021
10:00 AM
Map & Directions


Send Flowers
Garden of Memories Cemetery
3250 Fredericksburg Rd.
Kerrville, TX 78028
Map & Directions


Send Flowers
Beatrice Leal
of Kerrville, TX
May 10, 1935 - November 13, 2021
---
Beatrice Leal, 86, of Kerrville, went to be with our Lord, on November 13, 2021, peacefully at her residence. She was born in Kerrville, Texas to Blas Ramirez and Louisa Garcia Ramirez on May 10, 1935. She married Fidel G. Leal on December 27, 1952.

Beatrice retired from James Avery Craftsman after 39 years. Not only was she a jewelry craftsman, she was a well-known local seamstress that made Wedding and Quinceanera dresses, Baptism gowns, and costumes. She was a member of Notre Dame Catholic Church.

Beatrice is preceded in death by her husband, Fidel G. Leal; mother, Louisa Garcia Ayala; father, Blas Ramirez; stepfather, Santana Ayala; sister, Josie Lopez; daughter-in-law, Glenda Leal; son-in-law, Manuel ''Buck'' Castro; and great-grandson, Isaac Perez.

She is survived by her children, Jose Alfredo ''Fred'' Leal, Ernest Leal, Yvonne Leal Castro, Amanda Leal, and Fidel Leal Jr.; her sister, Rachel Constante; brothers, Tony Ayala, Mike Ayala, and Richard Lopez; 10 grandchildren; 21 great-grandchildren; and 3 great-great-grandchildren.

Visitation will be from 4-6 PM, followed by the Rosary at 6 PM, on Friday, November 19, 2021 at Grimes Funeral Chapels, officiated by Deacon Sonny Kaufhold and Deacon Jimmy Bill.

Mass will be at 10 AM, Saturday, November 20, 2021 at Notre Dame Catholic Church with Father David Wagner as celebrant. Interment will follow at Garden of Memories Cemetery.

Pallbearers will be Ryan Valdez, Jonathon Leal, Quinton Castro, Jesse Constante, Ernest Constante, and Brad Blei.

Honorary pallbearers will be Christian Hugaert, Jordan Hugaert, Andrew Garcia, Jacob Perez, Noah Adams, Ezekiel Perez, and A.J. Ayala.

In lieu of flowers, memorials may be made to Alamo Hospice.



8 Condolence(s)

Pedro Guerrero
VERNON, TX
Sunday, November 28, 2021
O Loving Father, Source of all life, please accompany Your servant, Beatrice Leal from this earth, to the Kingdom of heavenly peace, rest and eternal life that You have prepared for us.

Genevieve Loveless
Kerrville, TX
Saturday, November 20, 2021
Sending love and prayers of peace and comfort to all who loved her! Fly with the angels "Grandma."

Rebekah Torres
Houston, TX
Friday, November 19, 2021
My sincere condolences and deepest sympathies. To Yvonne, Freddy, and all of the family. God bless you all.

Gloria Ramirez
San Antonio, TX
Friday, November 19, 2021
My Deepest Condolences to
Everyone in the family. May she RIP.

Amanda Leal
Kerrville,
Friday, November 19, 2021
I will miss you always mom and love you so much❤

Virginia Medrano Dailey
Waco, TX
Thursday, November 18, 2021
I didn't know Beatrice personally, but my Aunt Susie Madrid and my Dad Val Medrano did. My thoughts and prayers are with the family. God Bless.

Fred leal
Kerrville, TX
Thursday, November 18, 2021
Good morning Mom,,miss you not seeing you
In the morning,,but you will always be on my heart
Love you always,,your son Fred

Yvonne Castro
Kerrville, TX
Monday, November 15, 2021
I Love you, Mom and I miss you already.