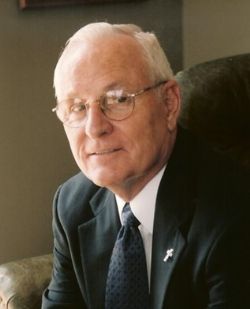 Celebration of Life
First Presbyterian Church
800 Jefferson St.
Kerrville, TX 78028
Saturday, April 9, 2022
1:00 PM
Map & Directions


Send Flowers
Carroll Lamar Pickett
of Kerrville, TX
April 3, 2022
---
Carroll Lamar ''Bud'' Pickett went to Heaven on April 3, 2022 from heart failure. He was surrounded by the love of family, friends, and all the people he impacted throughout his life of ministry and faith. He was 88 years old.

Carroll was born in Nursery, Texas to Richard Clifford Pickett and Lydia Teresa Marcak Pickett. He graduated from Victoria High School as Salutatorian and then from Austin College in Sherman, Texas with a BA in Psychology and a Bachelor of Arts. After graduation, he attended Austin Presbyterian Seminary where he completed a BD, Doctor of Ministries. He began his career as Pastor to the Sinton Presbyterian Church in Sinton, Texas and then moved to Victoria, Texas to accept a position as Associate Pastor to the First Presbyterian Church. He was then called to Huntsville, Texas where he became the minister for the First Presbyterian Church for 13 years. Carroll was then called to prison ministry in 1980 as Chaplain at the Walls Unit (Texas Department of Criminal Justice) where he ministered to over 2,500 inmates. When Texas reinstated the death penalty, he also ministered to 96 men who were executed by the state of Texas.

Since that time, he has written a book entitled, ''Within These Walls'' and was featured in the documentary ''At the Death House Door,'' produced by Steve James and Peter Gilbert, Kartemquin Films, IFC TV Channel, and the Chicago Tribune. He also served as an expert witness on cases on appeal speaking out against the death penalty. His book and the documentary have both received national and international awards. Carroll has personally received several awards over the years including the National Distinguished Alumnus award and an Honorary Doctorate, both from Austin College, and was inducted into the Austin College Athletic Hall of Honor. Austin College also established a tennis scholarship in his honor. For his prison ministry, he received a Resolution of Appreciation from the Texas Board of Criminal Justice and was honored by the inmates at the Walls Unit on his 12th anniversary of work as their chaplain.

Carroll is survived by his heart and soul, Jane Jarrell Pickett, and wife of almost 33 years. She has given him immeasurable joy and filled his life with meaning and laughter. He also loved his wife of 27 years, Sonya Campbell Pickett, with whom he created four wonderful children, Karel Henry, Anne Ellis, Steve Pickett, and Charlotte Hirschfelder. Together, Carroll and Jane have seven children including Jane's beautiful daughters, Kelley White, Stacy Ely, and Jody Smith and 16 grandchildren who have brought much pride and fun to their lives, including Beth Villanueva, Erin Henry, Justin Vahala, Jamie Vahala, Joshua Vahala, Michael Hirschfelder, David Hirschfelder, Anna Pickett, Tres White, Travis White, Ally Ely, Luke Ely, Paige Smith, Ansley Smith, Will Smith, and Walker Smith. They have eight great grandchildren. Carroll is also survived by his sidekicks and brothers, Ken Pickett and Bill Pickett, and his two little sisters, Shirley Prause and Sandy Winfield and remembered fondly his older brother who passed away four years ago, Richard Clifford ''Bo'' Pickett. He also loved and cherished each and every one of his nieces and nephews.

Two of Carroll's greatest joys in life (aside from Jane, playing tennis, and his 2nd in the nation college ranking) have been serving Christ and Christian music. Toward the end of his life when death was imminent, he was asked what he wanted people to feel leaving his funeral. He paused and softly stated, ''I just want people to hear all of my songs.'' The Celebration of Carroll's Life will be held on April 9, 2022 at 1:00 p.m. at First Presbyterian Church Kerrville. The service will be live streamed. In lieu of flowers, donations can be made to Peterson Hospice, First Presbyterian Church Kerrville, and the Texas Coalition to Abolish the Death Penalty.



16 Condolence(s)

Miriam Mercer
McKinney, TX
Thursday, May 12, 2022
Bud was such a good force in my life. I enjoyed working with him eggery summer at camp every year. The way he could calm injured children nnor just those who had or those who had impulse control issues. Then the way he could worknadulte at camp knew Bud would always be there for us. Love you, Jane.

Alicia Dreyer Almanza
Houston, TX
Sunday, April 10, 2022
Jane, I just inquired about you 2 weeks ago trying to find you. I left a direct message on FB messenger to you. I am so sorry for your loss. Your husband sounded like a fantastic man. Peace be with you, my long lost friend. I would love to talk with you.

Paul Dean
Houston, TX
Saturday, April 9, 2022
I met Mr. and Mrs. Pickett in college at Sam Houston University. Their warmth and grace were such a blessing to me. I had the opportunity to spend some quality time with Rev. Pickett and shared with him my sense of being called to the ministry. He encouraged me and poured into my call in numerous ways. I am so grateful for the time God granted to me with this awesome man of God.

Carol Pratt
Kerrville, TX
Saturday, April 9, 2022
Ruby Glass' daughters remember Pastor Carroll for so many things. . .for helping to ease their mother as she lay dying too soon in life; for officiating the weddings of Nancy (Minter) and Carol (Pratt); for being a friend to our family for a long while. He most certainly met the Lord to hear "Well done, good and faithful servant."

Denise Sarno & Family
College Station, TX
Friday, April 8, 2022
Memories are a cherished thing, and I know you all have so many.
Please know that our love & prayers are with you.

Ron Zifer
Ben Wheeler, TX
Tuesday, April 5, 2022
We are so grateful for this kindhearted man who gave of himself to reach the lost. I was blessed to have interacted with him as I provided Christian curriculum for 87 Texas prisons.

He was such a blessing to so many.

Jack Payden-Travers
Winston-Salem, NC
Tuesday, April 5, 2022
It was an honor to meet Rev. & Mrs. Pickett when they came to the ACLU National Convention in Washington, DC in 2008. He was an unforgettable human being and a voice of humility and honesty. His work for and on behalf of those on death row lives on. I will hold the family in the light as I remember him.

Mellicent Sikes Wiley
Huntsville, TX
Tuesday, April 5, 2022
Carroll Pickett will be greatly missed on this earth!
He was a wonderful Christian man. My heart
& prayers go out to his family.

RIP


Sharon MCCauley Gordy
Alvin, TX
Tuesday, April 5, 2022
My condolences and prayers to the family .
Jane, I know you will find peace
knowing Bud is with our Lord.

Maurice Possley
Laguna Beach, CA
Tuesday, April 5, 2022
My deepest sympathy to Jane and all the Pickett clan. We met while Steve Mills and I were investigating the Carlos DeLuna case for the Chicago Tribune. My first visit with Bud is indelibly etched in my soul. I loved Bud dearly. He was a good man with a big heart. My life was enriched by his presence--as were the lives of so many. I always enjoyed my time with him. May you all be sustained by the many memories.

Kathryn M. Kase
Houston, TX
Tuesday, April 5, 2022
May the Rev. Pickett be eternally blessed for his dedicated work on behalf of all so many would condemn as the least of our brothers, and may his name be engraved for a lasting memory.

Gabi Uhl
Taunusstein,
Tuesday, April 5, 2022
I have been an activist against the death penalty for more than 20 years and have had several friends on Texas death row. I first read and heard about Rev. Carroll Pickett in the German media in 1998. In 2002, 2003 and 2004 I had the opportunity to meet Rev. Pickett in Shiro. I will never forget him. My heart goes out to all his loved ones. I will light a candle for him - may God richly reward him for all he did for the condemned souls on death row and for the abolition movement. R.I.P. Rev. Pickett!

Susan and Butch Prause
Cuero, TX
Monday, April 4, 2022
We were so sad to hear about Uncle Buddy! He was the greedy guy ever…All our love and prayers go out to Jane and his family….Love all of your!

Sandy Thomason
Huntsville, TX
Monday, April 4, 2022
To my favorite boss who I will miss greatly. You married Edwin and I, you buried our parents and you baptized our children (and kept Laura on your lap while I worked). You will be in my heart forever. The heavens will be a little brighter now.

Angie (White) Blaisdell
Kansas City, MO
Monday, April 4, 2022
I have the best memories from the Pickett house growing up. Rev Pickett made us all feel right at home.
He married my Mom and step-dad and I took great delight in telling people that Rev Pickett "married my Mom"! My thoughts and prayers are with all the family.

Dru Standley Rich
Spring, TX
Monday, April 4, 2022
Such wonderful memories of this good man and how he saw our family through a dark time. We love you Carroll Pickett!
The Standley kids