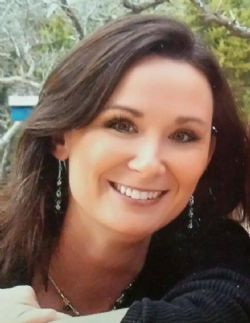 Visitation
Grimes Funeral Chapels
728 Jefferson St.
Kerrville, TX 78028
Wednesday, June 22, 2022
5-7 PM
Map & Directions


Send Flowers
Funeral Service
Grimes Funeral Chapels
728 Jefferson St.
Kerrville, TX 78028
Thursday, June 23, 2022
10:00 AM
Map & Directions


Send Flowers
Garden of Memories Cemetery
3250 Fredericksburg Rd.
Kerrville, TX 78028
Map & Directions


Send Flowers
Angela Denise Miears
of Kerrville, TX
July 13, 1972 - June 18, 2022
---
Angela Denise Miears, 49, of Kerrville, Texas, passed away on June 18, 2022 in San Antonio. Angela was born in Pasadena, Texas on July 13, 1972. She married her high school sweetheart, Brian Keith Miears, on December 8, 1990 in Kerrville, Texas.

Angela is preceded in death by her parents, Woody and Debbie Whatley, her maternal grandmother, Jacqueline Harris, her paternal grandparents, Oscar Wayne and Billie Adele Whatley.

Angela is survived by her adoring husband Keith Miears, her two children Kendall Nguyen and her partner Tina, and Hudson Miears and his wife Eleonora; her mother and father in-law Kathy and Buddy Miears; her five sisters, Melony Whatley, Sunshine Harrison and her husband Parker, Autumn Whatley and her husband Ky, Cheyenne Luna, Scarlett Miears and her husband Greg; her brothers-in-law Gary Miears and his wife Robin, and Greg Miears and his wife Scarlett; her nieces and nephews Nicole Shively and her partner Tyler, and children Jacob and Audrey, Kaitlin Shively and her children Carter, Cain, and Cross, Rainy White and her husband Dakotah and daughter Ivy, Tate Harrison, Caleb, Layla, and Bryar Selgrath, Deuce and Odis Broom, Stormi and Rowdy Luna, Hunter Miears and his wife Taylor, and Cole Miears; and her two dachshunds Otis and Cooper.

Angela was a loving daughter, wife, mother, sister, aunt and honorary grandmother. She was admired for her devotion to her family, especially her husband Keith, with whom she spent her whole life together in love, and her children, who made her eyes sparkle with admiration. She poured her love into every member of her family, and all of them accepted her love as a blessing. Her family will remember her for her beautiful smile, her laughter, and her quirky personality. We feel comfort in knowing that Angela is sitting and laughing with her mother and father, drinking coffee and sharing stories.

Visitation will be held 5-7pm on Wednesday, June 22, 2022 at Grimes Funeral Chapels.

Funeral Services will be held at 10:00am on Thursday, June 23, 2022 at Grimes Funeral Chapels. Burial will follow at Garden of Memories.



19 Condolence(s)

Patrick and Andrea Poljan
Austin, TX
Saturday, June 25, 2022
Dear Keith and family. We are so very sorry to learn of Angela's passing.. Please know we are thinking about you.

Mike Riley
HARRISVILLE, RI
Thursday, June 23, 2022
I'm so sorry for your loss. Thoughts and prayers the entire extended family.

Nikki Yadlapalli
Austin, TX
Thursday, June 23, 2022
I'm so sorry for your loss Keith. Sincere and deepest condolences. May god give you all the strength to push through this difficult time! My prayers are with you and the family.

Rebecca Park Alexander
Tivoli, TX
Thursday, June 23, 2022
My condolences are with you all.

Mark and Vivian Abendroth
Leander, TX
Tuesday, June 21, 2022
We are so very sad to hear of Angela's passing. Sending our sincere sympathy to her loved ones. May Angela rest in eternal peace, Amen 🙏🏼

Sherman Compton
Waxahachie, TX
Tuesday, June 21, 2022
So very sorry for your loss, prayers and condolences to all the family.

Chris & Stephanie Harris
Houston, TX
Tuesday, June 21, 2022
We are so saddened by the loss of Angela. She was truly a generous and loving lady. Always so caring about her family! She will forever live in our hearts and memories. Now she is with her family that has gone before her
Love Uncle Chris &. Aunt Stephanie


Peggy and Rod Marburger
Kerrville, TX
Tuesday, June 21, 2022
We are so sorry for your loss. Allow God to give you strength and comfort strength and comfort.

Gary and Dixey Selgrath
Kerrville, TX
Tuesday, June 21, 2022
Our heart goes out to your family. May the angels
Hold you in their arms.

Charlene and Dan Wiegrefe
Austin, TX
Tuesday, June 21, 2022
So sorry for your loss and we are heartbroken with you.

Mary Beaver
Kerrville,
Tuesday, June 21, 2022
I remember this sweet little girl growing up and turned into a beautiful lady,mom,and wife
. Heavens doors will swing open wide for hher,mom and dad will be there waiting for her.

Charlotte Haygood
Tyler, TX
Tuesday, June 21, 2022
I'm so sorry Sunshine! Prayers for peace for your family.

Rhonda Peters
Burton, TX
Tuesday, June 21, 2022
Angela had spirit, character and a strong moral core.
She treasured her family. Proof was in
Her generosity that had no bounds. I will always
Remember her in her classic choice of a t-shirt and
Shorts. And her beautiful smile. Fly away sweet Angel.
God has called your name. Love, Aunt Rhonda

Audrie Campi
Stuart, FL
Monday, June 20, 2022
To the entire Miears family. My heart is so sad and broken about Angela passing. She was an amazing BFF for many years as my neighbor in Leander. So many great conversations as we walked together every morning. We had such a sister type bond. I remember her even traveling with Hud two times to visit me when we were stationed in Italy. She was truly a sister to me and I will miss you so much my dear friend. Prayers to all of you.

Bret Ford
Kerrville, TX
Monday, June 20, 2022
So sorry for your loss. We will be praying for the family.

Cody and Valena Robbins
Fort Mill, SC
Monday, June 20, 2022
You are in our prayers.

Eddie and Kristi Dechert-Giles
Houston, TX
Monday, June 20, 2022
Keith,
We are so heartbroken over the loss of your precious Angela. We will always remember her beautiful smile, kind heart, and lifelong devotion to those she loved. We pray for God's comfort, peace, and strength to cover you during this incredibly difficult time. We are carrying you, Hudson, Ke dall, and the entire family close in our hearts.

Shorty & Ann Vick
Kerrville, TX
Monday, June 20, 2022
What a beautiful lady inside & out! She will definitely be missed by all who knew her. Prayers for the family

Mary Burlew
Center point, TX
Monday, June 20, 2022
I'm so sorry for your loss. God please watch over her family
In there time of need.