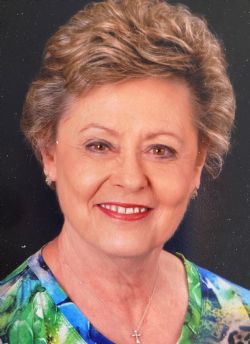 Visitation
Grimes Funeral Chapels
728 Jefferson St.
Kerrville, TX 78028
Wednesday, June 29, 2022
5-7 PM
Map & Directions


Send Flowers
Funeral Service
Kerrville Church of Christ
1900 Loop 534
Kerrville, TX 78028
Thursday, June 30, 2022
10:00 AM
Map & Directions


Send Flowers
Garden of Memories Cemetery
3250 Fredericksburg Rd.
Kerrville, TX 78028
Map & Directions


Send Flowers
Caroline Ann Kensing
of Fredericksburg, TX
August 29, 1946 - June 25, 2022
---
''To everything there is a season and a time to every purpose under heaven.'' Ecclesiastes 3:1-8

This is our time to mourn the passing of our beloved Caroline Kensing, wife, mother, grandmother, sister, aunt, cousin and friend. Caroline's presence will be missed by all who knew her because to know her was to know her well. She took you into her embrace and her empathy and, when required, her difference of opinion. We are comforted in knowing that she rests peacefully in the arms of her loving Savior and in the presence of her loved ones who have gone before. Preceding Caroline in death were her parents, Edward ''Eddie'' Malochleb and Bertha Lou Klinksiek Malochleb.

Caroline was born August 29, 1946 in San Antonio, Texas. She passed from this life on June 25, 2022 in Austin, Texas. She spent her entire life in the Texas Hill Country and loved it dearly -- every flower, tree, bird and butterfly.

Surviving Caroline is her husband and best friend, Kenneth Kensing, and her children: John W. Carlson III (Nicki), Jennifer Gonzales (Arthur), Scott Carlson (Anne), Kyle Kensing (Stacey), and her grandchildren, the lights of her life: Eric Gonzales, Rachel Carlson, Matthew Gonzales, Shay Bluemel, Grace Carlson, Johnathan Carlson, Nicholas Gonzales, Keland Kensing, Samuel Carlson and Lucinda Carlson. Also surviving is her sister Peggy Contreras (Leo), many nieces, nephews and cousins, and a host of friends, especially lifelong friend and confidante, Joann Pfiester.

Caroline was a member of the family of Kerrville Church of Christ. She was a long-time employee and extended family member of those at Lehmann and Monroe Enterprises, and Ranch Enterprises, where she continued in part-time employment until her passing.

We, her family, thank you for your prayers, thoughts, and loving expressions, as well as your presence in our time of sorrow. We know that, as Ecclesiastes 3:1-3 says, we will once again return to a time of joy, a time for dancing, and a time to celebrate Caroline as she would choose to be celebrated.

Visitation will be held from 5-7 PM, Wednesday, June 29, 2022 at Grimes Funeral Chapels.

Services will be held at 10 AM, Thursday, June 30, 2022 at Kerrville Church of Christ. Interment will follow at Garden of Memories Cemetery.

Honorary pallbearers are all of the grandchildren and Leo Contreras, Reggie Tuck, David Lehmann and Reagan Lehmann. Pallbearers are Michael Hornes, Gene Lehmann, Corey Lehmann, Dickie Robertson, Steve Monroe, and Scott Fair.

In lieu of flowers, please make donations in Caroline's memory to the Pregnancy Resource Center of Kerrville or Arms of Hope.


22 Condolence(s)

Susan Harris and family
Kerrville, TX
Wednesday, July 6, 2022
Our prayers are with you all for an exceptional person.
May God keep you close.

William Hickey
Kerrville, TX
Saturday, July 2, 2022
To John and family, we are so sorry to hear of he passing of your mother. Our condolences for your loss. God bless.

Judy Ferguson Rouse
Kerrville,
Friday, July 1, 2022
I am so sorry for you loss. She was a great
Person and will be missed.

Robert and Joyce Riddle
Kerrville, TX
Friday, July 1, 2022
Our deepest sympathy.

David Kensing
Poteet, TX
Thursday, June 30, 2022
My prayers are with the family. Caroline with be missed by all who knew her.I know she is heaven looking down on her loved ones.

Bud Fawcett Family
INGRAM, TX
Thursday, June 30, 2022
What a GREAT LADY, we are so blessed to have had you as our friend. God bless the Kensing Family.

Daniel Kunz
Castroville, TX
Thursday, June 30, 2022
Mr. Kensing and family, we are very sorry for your loss, we are sending prayers to you and your family during this difficult time.

Donald Kelm
,
Wednesday, June 29, 2022
Kenneth, thoughts and prayers with you and your family.


Kathy Morrow Ingram
Kerrville,Tx, TX
Wednesday, June 29, 2022
I've known Caroline many years from church . I will misss your sweet smile.Hugs and prayers for family.

Pamela Epps
Ingram, TX
Wednesday, June 29, 2022
John and Nicki, I am sorry for the loss of your mom. My thoughts are with your family at this moment in time.

Amanda Ivey
Bloomingburg, OH
Wednesday, June 29, 2022
So sorry to hear of Caroline's passing. I feel blessed
to get to call her my friend. Prayers and hugs to the
family. I can't imagine the sorrow of losing such a wonderful soul.

Benno J Bauer Jr
Houston, TX
Tuesday, June 28, 2022
I met Caroline at Zion Lutheran Church through Luther League as a teen I remember her great friendship with JoAnn Vance at that time I worked her father at First National Bank, after Schreiner and Texas Lutheran. Her friendship was also with my sister Bonnie. I pray for Gods comfort on the whole family. May HE comfort and love each of you as only HE can.60 +- years have passed I last saw her. Bonnie and I talk a lot about our childhood this afternoon and a lot of it was centered around Caroline, JoAnn and other relationships that were of interrelated amongst us all. The 50s were of excellent years. God bless.

Kathryn Ramsey-Sibley
INGRAM, TX
Tuesday, June 28, 2022
I am so very sorry for your loss. Prayers for peace for you all.🙏🤗

Michael Barcelo
Kerrville, TX
Tuesday, June 28, 2022
Caroline was such a Great Person. Always Positive and Fun to Visit with. Our thoughts and prayers are with Mr. Kensing and The Rest of The Family. She will be Missed.

-Barcelo Brothers-

Dianne Poppe
Kerrville, TX
Tuesday, June 28, 2022
I did not know Caroline as an adult well but she was a close neighbor when we were in grade school and I spent a great deal of time at her home, so I feel like I knew her long ago. Condolences and prayers to the family.

Janell McMullan
Seguin, TX
Tuesday, June 28, 2022
My sincerest condolences.

Jennie Wann
Roscoe, TX
Monday, June 27, 2022
My prayers and condolences are with you at this time. I am so sorry She was always so very kind and I enjoyed our short visits at the pig sales! Peace and comfort to you all!

Bonnie VanBerg
Mansfield, TX
Monday, June 27, 2022
I'm so so sorry to hear about the passing of Caroline from this life. I met Caroline in our young teens through our church and then enjoyed her as a neighbor. She was a vibrant force. My sincere condolences to her family that she was so proud of. May God bless you all.

Ellen Eckert
Doss, TX
Monday, June 27, 2022
Kenneth and family, I am so very sorry for your loss. Caroline will be missed deeply and my prayer is that God will wrap each of you in his loving arms to grant you Peace and Comfort in the days ahead. She was a blessing to everyone that she met and spoke with. You have my heartfelt sympathy.
~Ellen Eckert

Eddie and Kristi Giles
Houston, TX
Monday, June 27, 2022
Kenneth, John, Scott, Peggy, and family-
We will forever remember the loving way Caroline (Memaw, for Taylor) embraced all three of us from the moment we met her. She claimed us as family, and we are so honored and blessed that we were recipients of her great love. May God draw near to you all and comfort you with His peace, strength, and love during these difficult days. We are here for you all and will always help you keep her memory alive.

Kenneth Herring
Natalia, TX
Monday, June 27, 2022
Ken and family
our thoughts and prayers are with you, many good times at S.A.L.E. working swine committee. God bless

Carroll Smith
Mandeville, LA
Monday, June 27, 2022
She was an awesome person and great friend. Always positive and full of life. I only wish I could have talked to her prior to her death. She will be greatly missed.