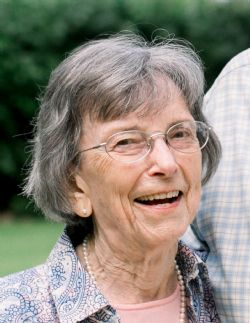 Memorial Service
Trinity Baptist Church
800 Jackson Rd.
Kerrville, TX 78028
Thursday, September 22, 2022
10:00 AM
Map & Directions


Send Flowers
Lois Marie Hickman
of Kerrville, TX
April 20, 1934 - September 18, 2022
---
A heart as huge as her stature was tiny;
As selfless, as she was strong.
As humble, as she was confident in her Savior,
As courageous, as she was discerning,
As fun and crazy, as she was elegant.

She was a tree-climber, believer, dancer, singer,
A servant, leader, teacher, and dreamer.
She made her house a beautiful home. She was a wife and mother with the patience of Job.
A true reflection of Christ to the letter. She lifted us up and made all of us better.

The world became a better place on April 20, 1934 when Lois was born in Eastland, Texas to George Minter and Marie Hardin. She met Roy in Rising Star, Texas, where they both attended Rising Star Elementary School. She spent much of her childhood climbing trees with her cousin Patsy. And that's exactly where Roy first spied her, sitting in a tree while he was mowing the yard of the Hardin home. The rest was history. She was married to Roy Don Hickman on November 27, 1954 at the First Baptist Church in Rising Star.

She graduated from Baylor University in 1956 with a bachelor's degree in English. In 1963, Roy and Lois moved to Ames, Iowa where Roy pursued his doctorate in Statistics at Iowa State University. There she established and maintained a thriving home for her family. In the late 1970s she completed her specialization in Special Education that allowed her to work at the Wilson-Beardshear School, where she served special needs students age 16 to 21, teaching them life skills which enabled them to live independently.

Roy and Lois retired to Kerrville, Texas in 1993 where they have lived for the last 29 years. She was always involved in her church, serving in many ways at North Grand Baptist and Friendship Baptist churches in Ames, Iowa, and at Trinity Baptist Church in Kerrville, Texas. She also served as a hospice volunteer in Kerrville and was committed to justice and fairness, always compassionate and supportive of her children, grandchildren and friends. She was diligent and hard-working, but quick to laugh and always willing to listen - a skill that came in handy when she was with her notorious story-telling husband, Roy. She never took herself too seriously, willing to swap clothes with her granddaughter for an elementary school Costume Day, dance in the kitchen with her son (and eventually with her grandchildren and then her great-grandchildren). She put up with her family nickname of Loyus McGillicutty. She took great joy in nature and in caring for the earth. She loved watching the San Antonio Spurs!

Lois Marie Hickman went to be with the Lord on September 18, 2022. She was preceded in death by her beloved son-in-law, Wayne Forrest Graham. Survivors include her husband, Roy Don Hickman, her daughter, Laura Lynn Graham, her son Timothy Roy Hickman (Frank Vaia), her grandchildren, Jeremy (Sarah) Graham, Joshua (Kaitlyn) Graham and Jessica (Blake) Barfield and her seven great-grandchildren.

A memorial service will be held at 10:00 a.m. on Thursday, September 22 at Trinity Baptist Church in Kerrville with Frank Brooksher officiating.

She will be buried on Wednesday, September 21 at the conclusion of a private graveside service for the immediate family.

Condolences may be shared at www.grimesfuneralchapels.com, as funeral arrangements have been entrusted to Grimes Funeral Chapels of Kerrville.

In lieu of flowers and in memory of Lois' sweet spirit, consider making a contribution to the Jubilee Sunday School Class at Trinity Baptist Church.


8 Condolence(s)

Mrs. Marilee Crawley-Mertins & Dr. James W. Mertins
Ames, IA
Saturday, September 24, 2022
To Roy and Family,
Please accept our deepest sympathy in the passing of Lois. I have many wonderful memories of time spent with her, you, and your family. Many of our old friends from Grand Avenue Baptist Church have passed. I have survived cancer three times (via Mayo Clinic in Rochester) and turned 80 this year. Jim is most recently in remission from cancer. We are both still friends with Bert who is now being cared for, for Alzheimer's brain disease, which runs in his family. He is divorced from his second wife and his three sons live in California. None of them ever married. I hope you are doing OK. We are both still working by choice, because we both love what we do, not because we need to. You will laugh out loud when I tell you I actually have 18 pianos in this house and six guitars! All the best, Marilee & Jim.


Bob Crawford
Ames, IA
Friday, September 23, 2022
I am so sorry for your loss. While I never met your wife, Dr Hickman, I recall your kind heart during my graduate degree so I know she will be missed

Bob Crawford
Harold and Rachel's son



Connie Wilson
Des Moines, IA
Thursday, September 22, 2022
Dearest Tim and family....as I told Tim earlier in the week, after reading this lovely obituary I understand why he is the wonderful human being he is. You all had a living example of how to be a true Christian in actions and spirit, how to be a real friend, and how to make a difference in the world. I wish I had known your mom, Tim. I know I would have really liked her. I know there is a huge hole in your hearts now without her and I know how much you all will miss her. Be comforted knowing what a loving impact she had on so many, even on those of us who know her only through her children who we are blessed to have in our lives.

Keith Bailey
Ames, IA
Thursday, September 22, 2022
Roy, Laura, Tim and Family;

I am so very sorry for your loss. She was a very fine and gracious lady.
She always seemed to have a winning smile and good word. A Light went out in this world with her passing.
Regards, Keith Bailey

Ron and Barbara Lowry
Knoxville, TN
Thursday, September 22, 2022
Roy, we love you and Lois dearly. She was a sweet and special friend, as you are. The service was lovely. We are sad that we could not be there. It was wonderful to be able to participate with you, Roy, and your family by livestream.
We will pray for you and your family as you follow life in this different pattern. We know that God will guide you each day.
We are thankful to have you as our good friend. God Bless.
Ron and Barbara Lowry

Pamela Cummings
Missouri City, TX
Monday, September 19, 2022
Lois, was such a sweet lady, & she truly loved her family.
She is now seeing her Savior face to face, how glorious!
Prayers for comfort and peace for Roy, Laura, Tim and families
during the days ahead.
Love y'all
Clif & Pam


Phil and Vicki Horton
Dumfries, VA
Monday, September 19, 2022

She was a very special person. We will miss her greatly.

Dr. & Mrs. E. Douglas Harris
Kerrville, TX
Monday, September 19, 2022
We are truly sorry for your loss. Lois had a lovely
spirit and a great personality. Always smiling.
Everyone who knew her loved her.
Douglas & Deborah Harris