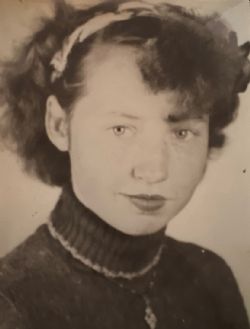 Visitation
Grimes Funeral Chapels
728 Jefferson St.
Kerrville, TX 78028
Saturday, March 18, 2023
5-7 PM
Map & Directions


Send Flowers
Graveside Service
Nichols Cemetery
Nichols Cemetery Rd.
Kerrville, TX 78028
Sunday, March 19, 2023
2:00 PM
Map & Directions


Send Flowers
Frances Lorraine Evans
of Ingram, TX
September 22, 1938 - March 15, 2023
---
Frances Lorraine Evans, 84, passed away peacefully at home in Ingram, Texas on March 15, 2023. She was born September 22, 1938 in Three Rivers, Texas to Louis Rowland Stow and Lillian Lucille Hardin. She married Charlie Calvin Evans on June 21, 1954 in Kerrville, Texas.

Frances was preceded in death by her husband, Charlie Evans and two sons, Cecil Floyd Evans and Clyde Wayne Evans.

Her survivors include two sons and a daughter: Claude Rowland Evans, Calvin Charlie Evans and Alice Mae Evans, all of Ingram. She had numerous grandchildren, great-grandchildren, and even great-great grandchildren, amongst many other family and friends whom she loved dearly.

Visitation will be 5-7 PM, Saturday, March 18, 2023 at Grimes Funeral Chapels.

Graveside services will be held at 2 PM, Sunday, March 19, 2023 at Nichols Cemetery, officiated by Randy Dean.

Pallbearers include Cecil Evans, Cameron Evans, Calvin Evans, Charlie Evans, Claude Evans and Chad Evans.

6 Condolence(s)

Paige allen
Ingram Tx, TX
Wednesday, June 7, 2023
Hey mawmaw I'ma miss you, you raised me it's your
Favorite great grandchild here I love and miss you maw maw

Amanda Zuniga
Victoria, TX
Friday, March 24, 2023
Momo I will always remember the beautiful person u where I cnt believe iam jst find out of ur passing rest at easy beauty i love u

Heather Kibodeaux
Kerrville, TX
Saturday, March 18, 2023
Praying for the family

Maggie Lloyd
Eldorado, TX
Friday, March 17, 2023
My deepest condolences to the family. Mawmaw was a wonderful lady and will be greatly missed. Rest in peace my friend.❤️❤️

Sonia Delarosa
Yorktown, TX
Friday, March 17, 2023
Praying sent to family and friends… will miss you Maw Maw you where one of the kind and very special woman that I'll never forget ….

LaVerne Ray
Kerrville, TX
Friday, March 17, 2023
My deepest sympathy & condolences to the entire
family.