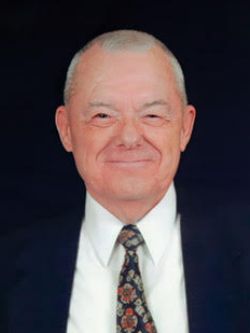 Memorial Service
Trinity Baptist Church
800 Jackson Rd.
Kerrville, TX 78028
Wednesday, September 20, 2023
1:00 PM
Map & Directions


Send Flowers
Stan Cullison
of Kerrville, TX
February 1, 1938 - September 7, 2023
---
Paul Stanford Cullison, 85, of Kerrville, Texas, passed away on September 7, 2023 in Kerrville, Texas. He was born in Sperry, Oklahoma to Herbert and Opal Cullison on February 1, 1938. He married Linda Ivy on September 10, 1956.

He graduated from the University of Texas in Austin, Texas. He worked as a licensed CPA for 50 years. He was a member of the Texas Society of CPAs and the American Society of CPAs. He was a deacon at the First Baptist Church of Bellaire in Bellaire, Texas and a current member of Trinity Baptist Church in Kerrville, Texas.

He was preceded in death by his parents, Herbert and Opal Cullison; daughter, Debra Lengefeld; sisters, Linda, Shirley and Janice; and brother, Charles.

He is survived by wife of 67 years, Linda; son Danny; grandsons, Chris Lengefeld and Chase Cullison; granddaughter, Lisa Lengefeld; great-granddaughter, Ashlen Lengefeld; brothers, William and Herbert Cullison; and son-in law Marshall Lengefeld.

Stan was a devoted husband, father, grandfather, and great-grandfather. He was a devout Christian with an extensive church family. He impacted so many with his faith and devotion.

For those wishing to honor Stan's memory, the family requests that donations be made to Trinity Baptist Church in Kerrville, Texas.

A Celebration of Life will be held at 1:00 pm, September 20, 2023 at Trinity Baptist Church, 800 Jackson Rd., Kerrville, Texas, to honor the memory of Stan.



5 Condolence(s)

Debra & Zelda Merritt
Durant, OK
Friday, September 22, 2023
Mom and I are so sorry for your loss. We just found out about Stan & Debra. You and your family are in our thoughts and prayers.

Boyd and Julie Robinson
Kerrville,
Tuesday, September 19, 2023
Stan was a man of deep, practical faith in His Savior Jesus Christ. He began his faith journey on his own atan early age and blessed thousands in thier along his life faith. He would be the first to minimize that reality. A great and humble man.

Sam Ligon
Kerrville, TX
Sunday, September 17, 2023
Dear Linda & Family:
Your loss of Stan is shared by many of us who were friends at church and in business relationship with him. Personally, Stan's gifts were shared with me revolving around his skills with computer tech knowledge. Our frequent visits included a cup of coffee and conversation about our relationship with our Heavenly Father and His Son Jesus! And in God's timing , we will be reunited to enjoy that friendship in God's presence. Please know I pray for you for God's grace and mercy moment by moment.
Keep the SON in your eyes!

Sam Ligon

Peggy Morrow
College Station,
Saturday, September 16, 2023
Dear, dear Friend, i love you so much. My prayer is God will provide will
Will provide an inner peace and you will be flooded with find mem
Fond memories. .
Peggy Morrow.

Pam Morey
Ingram, TX
Thursday, September 7, 2023
My prayers are with family, I enjoyed being one of his nurse he was such a sweet kind man. Loved his family.