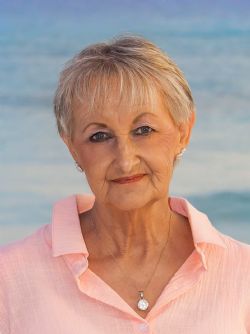 Celebration of Life
Church at the Camp
1580 Logan Ranch Rd.
Mason, TX 76856
Friday, September 15, 2023
2:00 PM
Map & Directions


Send Flowers
Lynette "Omi" Joan Haseloff
of Hext, TX
July 29, 1944 - September 8, 2023
---
Lynette Joan Haseloff, 79, of Hext, Texas, went to be with her Heavenly Father on September 8, 2023, in Kerrville, Texas.

Lynette was born July 29, 1944, in Spokane, Washington to Richard and Thelma Palmer (Bausch). She and her younger sister, Linda, grew up in Hermiston, Oregon on a family-owned dairy farm. She graduated from Hermiston High School, Class of 1963, and later attended business college in Kennawick, Washington. Through her adolescent years, Lynette enjoyed rodeoing, showing horses, and serving as rodeo royalty with the Umatilla Sage Riders.

After completing school, she worked for a small bank in Hermiston and that is where she met her husband, Edwin Haseloff, they would later marry on August 19, 1967. The couple moved to Cloudcroft, New Mexico where Lynette worked for a small local bank and then began a career with the Lincoln National Forest Service for which she worked for an impressive 36 years.

Lynette, ''Omi'', spent her retired years loving-on her girls, five grandkids, and one great-grandson. She found so much joy in attending all their events, from rodeo to football.

Lynette is survived by two daughters, Talley Lyles and her husband Barry of Hext, Texas, and their two daughters, Jordan and Nealy, and Tori Bowen and her husband Aaron of Stephenville, Texas, and their three children, Fallon Avelar (Logan Avelar), Cash Bowen, Emmy Bowen, and one great-grandson, Shaydon Avelar; her sister, Linda Palmer, of Alamogordo, New Mexico, and extended family in Oregon.

She was preceded in death by her husband, Ed Haseloff, and her parents.

A Celebration of Life will be held at 2 p.m. on Friday, September 15, 2023, at Church at the Camp, 1580 Logan Ranch Road, Mason, Texas, 76856.

Should friends desire, memorial contributions may be made to Second Chance Animal Rescue, P.O. Box 755, Mason, Texas, 76856; or to TREAT Equine Assisted Therapeutic Riding Program of Tarleton State University, Box T-0070, Stephenville, Texas, 76402.


8 Condolence(s)

Denise Ottaviano
Tularosa, NM
Monday, October 16, 2023
I have fond memories of working with Lynette in Alamogordo for the Lincoln National Forest. My condolences to her family. May she rest in peace.

Joseph Garcia
Meridian, ID
Monday, September 18, 2023
I always enjoyed Lynette - her smile - the conversations -- and, her stories of roping a calf! She was a hoot to work with! We will ALL miss you! Thoughts and prayers to her Familia and Friends.

Toni Byrd Emerson
Irrigon, OR
Wednesday, September 13, 2023
Sorry to hear about Lynette. Knew her from Sage Riders.

Gregg haseloff
Round Rock, TX
Tuesday, September 12, 2023
I believe that Lynette's in heaven now. We saw her
Mostly at Christmas when I was young always so full of life quick with a laugh quick with quick a joke and so kind to us kids.
God thank you for Lynette's life and letting us getting to know her.

Brenda Black
Hext, TX
Sunday, September 10, 2023
Glad I had the chance to know Lynette & better for it.

Danny and Beth Miller
Las Cruces, NM
Saturday, September 9, 2023
May God wrath His arms around your family with love and peace.

Marcy Merrick
Cloudcroft, NM
Saturday, September 9, 2023
Love you so much my Talley. So sorry to hear about the passing of your mom.
My condolences to you and Tori and family. 😘🥰🙏

Charlton & Heather Pino
Livingston, MT
Saturday, September 9, 2023
We love you all! Thank you for letting us be apart of your family! She ment so much to us. You will have an amazing guardian angel watching over you. Sending out deepest love and prayers.