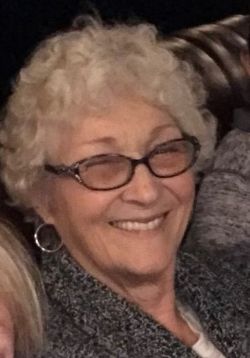 Visitation
Grimes Funeral Chapels
728 Jefferson St.
Kerrville, TX 78028
Friday, September 15, 2023
5-6 PM
Map & Directions


Send Flowers
Graveside Service
Garden of Memories Cemetery
3250 Fredericksburg Rd.
Kerrville, TX 78028
Saturday, September 16, 2023
10:00 AM
Map & Directions


Send Flowers
Beth LeMeilleur
of Kerrville, TX
January 28, 1941 - September 9, 2023
---
Behethland (Beth) Coe LeMeilleur, 82, of Kerrville, passed away on September 9, 2023. She was born in Winston-Salem, North Carolina to Waldo and Annie Coe on January 28, 1941. She married William Coy LeMeilleur Jr. on December 30, 1960 in Kerrville at the First Baptist Church.

She attended school here in Kerrville and graduated from Tivy High School in 1959. She then attended Draughon's Business School of San Antonio where she graduated as a legal secretary. She was a secretary for various attorneys and businesses here in Kerrville.

Beth was preceded in death by her husband, Coy LeMeilleur Jr.; her parents, Waldo and Annie Coe; her father-in-law and mother-in-law, Coy and Theda LeMeilleur; her sister, Rachel Griffin; her sister-in-law, Sandra Albright LeMeilleur; her brother-in-law, Lance LeMeilleur; her niece, Shelly Shivers; and her nephews, Aaron LeMeilleur and Jackson Enloe.

She is survived by her daughter, Dawn Large (Shane); her son, Coy LeMeilleur (Rachel); her brother, Sam Coe (Mary); 6 grandchildren, Blair O'Connor (Clayton), Coby Large (Julia), Tobyn Large (Amber), Raegan Zdanowicz (Zac), Shelbi LeMeilleur and Kendall LeMeilleur; 9 great-grandchildren, Rowan, Tripp, Ali, Grayson, Zoey, Riverly, Jett, Brea and Hudson.

Visitation will be held from 5-6 pm, Friday, September 15, 2023 at Grimes Funeral Chapels.

Funeral services will be graveside at the Garden of Memories on September 16, 2023 at 10 am, officiated by Frankie Enloe.

Honorary pallbearers are Coby Large, Tobyn Large, Clayton O'Connor, Zac Zdanowicz, Tripp Large, Grayson Large, Jett Zdanowicz and Hudson Large.

Please send memorials to the Alzheimer's Association.



6 Condolence(s)

Nancy Shaw
Robinson, TX
Thursday, September 21, 2023
I am so sorry to hear about Beth, she was a special person. My thoughts and prayers to her family.

Walt & Jan poppe
Kerrville, TX
Sunday, September 17, 2023
Dawn, Coy and family: What a beautiful and special friend Beth was. My husband was in her class at Tivy and I knew her for many years. May you keep your wonderful, loving memories close to give you comfort. Bless you all.

Mary B. Olden
Kerrville, TX
Wednesday, September 13, 2023
To the Le Meilleur family I send my condolences, prayers & God's blessings. Beth was a former secretary-colleague of mine and a thoughtful, caring, outgoing person who will be greatly missed by all who knew her.


Mary B. Olden

Rosemary Rhoden
Chesterfield, VA
Wednesday, September 13, 2023
I was so stunned to hear this. She was such a wonderful friend and I remember all the fun times we had together. Sending my love and prayers to all of your family as I live out of state I will won't be able to attend but my prayers will be with you.

Denise R Le Meilleur
Fredericksburg, TX
Monday, September 11, 2023
Beth you will be truly missed. Your smile was always infectious and you were so sweet to both David and myself. An encourager and a positive person in the midst of any adversity. Heaven gained an angel and we said "until we meet again" to a sweet friend. Sending love to Coy and Dawn and all of the family as they remember your precious memories.
Love Denise LeMeilleur

Bruce McFadden
Kerrville, TX
Monday, September 11, 2023
Rest in Peace Beth. Condolences to her fine family.