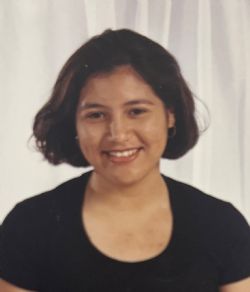 Memorial Service
Grimes Funeral Chapels
728 Jefferson St.
Kerrville, TX 78028
Monday, September 18, 2023
2:00 PM
Map & Directions


Send Flowers
Lillian "Lilly" Palafox-Ramirez
of Kerrville, TX
August 24, 1980 - September 14, 2023
---
Lillian ''Lilly'' Azeneth Palafox-Ramirez gained her wings and went to walk with the angels on September 14, 2023, at the age of 43.

Lilly was an exceptional wife and mother, caring daughter, sister and friend. She devoted her life to her three girls, always happy to be the central figure in their lives. Anyone who knew them knew that she was a star in their eyes, and that's all that mattered to her. She will be terribly missed.

Lilly was preceded in death by her paternal grandparents, Clemente Palafox Martinez and Esperanza Rodriguez Nava; her maternal grandmother, Mercedes Treviño; great-grandfather, Pablo Treviño; her mother-in-law, Consuelo Ramirez; and aunt, Rosario Bustamente.

She is survived by her loving husband of 20 years, Juan A. Ramirez; daughters, Jillian A. Ramirez, Leilah C. Ramirez and Emma R. Ramirez; parents, Maria Dolores and Clemente Palafox; brothers, Eric (Nohemi) Oliva, Clemente Palafox V, Andres (Celina A.) Palafox and Lionel Palafox; and numerous family, nieces and nephews.

A memorial service will be held to honor her life at 2 p.m., Monday, September 18, 2023 at Grimes Funeral Chapels, 728 Jefferson St., Kerrville, TX 78028.





5 Condolence(s)

Ava Dominguez
Kerrville, TX
Monday, September 18, 2023
We will be praying and be here whenever y'all need it. ❤️

Patricia Lanfranchi
San Antonio, TX
Monday, September 18, 2023
Lo siento mucho
Los abrazo
Dios les de la fortaleza para aprender a vivir sin ella
Jill y toda la familia me duele mucho por lo que están pasando
Tu mamá una señora siempre amable y muy linda con nosotros
La familia The Humble Fork 🙏
Lo sentimos mucho
Jill se te quiere mucho en lo que te pueda ayudar 🙏descanse en Paz 🙏

Alysse O'Brien
Kerrville, TX
Monday, September 18, 2023
My heart is with you family. Emma, Leilah, and Jillian- you are beautiful, wonderful young ladies who will mirror who you mom is and show it to the world. I am sending my love to the whole family.

Christina Chacon
Kerrville, TX
Saturday, September 16, 2023
My heart aches for this tremendous loss. My heart is with her girls. No child should have to grow up without their mama. Jillian, Leilah and Emma, your mama raised you to be strong, independent and courageous. Use that strength as you move forward and always remember how much she loved you and how proud she was of you girls. Sending all my love to Lilly's family. ♥️

Mr. & Mrs. David Ballesteros
Laredo, TX
Friday, September 15, 2023
Our condolences to the Palafox and Ramirez family
May you get through this difficult time, through prayers & the comfort of friends