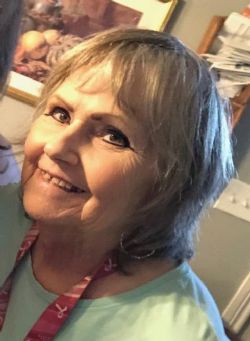 Graveside Service
Sunset Cemetery
Mountain Home, TX 78058
Friday, September 22, 2023
11:00 AM

Service
Devine Lutheran Church
Devine, TX
Sunday, September 24, 2023
11:00 AM


Send Flowers
Linda Kay White
of Devine, TX
December 19, 1947 - September 15, 2023
---
Linda K. White, 75, of Devine, Texas passed away Friday, September 15, 2023 at Lytle Nursing Home. Linda was born on December 19, 1947 in Kerrville, Texas to the parents, JW White and Margaret Louise White.

Linda started school in Kerrville, Texas until the family moved to San Antonio where she graduated from Robert E. Lee High School.

Linda had many jobs throughout her life. The one she was most proud of was her time in the Air Force. She was a Vietnam era veteran and was proud of her service.

She married Jerry Civiletto in 1968 and had her first child, Tamra K. Schroeder. Years later, she married Charles Atkinson in 1974 and had her second daughter, Erica Lynn Schroeder.

Linda has six grandchildren, Ashley, Nicole Schroeder, Kasey Kaye Frazier, Stephanie Lynn Schroeder, Steven Hyrum Civiletto, Sarah Lizabeth Schroeder, Sean-Eric John-Ernest J.W.Schroeder. She has four great-grandchildren, John Schroeder, Braxton, Frazier and Maggie Schroeder, McKenna Frazier. She is also survived by her two brothers, Jake White of San Antonio, Texas and Rick White of Blanco, Texas.

Services will be held 11 AM Friday, September 23, 2023 at Sunset Cemetery in Mountain Home, Texas and church service for Linda will be Saturday, September 24 at 11 AM at Devine Lutheran Church in Devine, Texas.





5 Condolence(s)

Jessica Avila
Blanco, TX
Thursday, September 21, 2023
My dear sweet Linda,
Our story was unique and started with a fight. After that, I knew I couldn't let you go. EVER. You were always so tentative with me and the kids. Called me all the time asking how we were and if we needed anything, talked about our kids, life problems, life achievements and life goals. Your life wasn't always easy, but you are a survivor. You were God's child. I will miss you so, so much Linda. Fly high with angels. We will see each other soon.

Sarah Schroeder
Jourdanton, TX
Wednesday, September 20, 2023
When I smell patchouli I will remember all the time you gave me a tight hug so warm and safe or when I listening to a old country music I will remember the little white car and driving to middle of nowhere to get a $1 soda. So on many memories is now bittersweet love you so much Granny

Steven Civiletto
Blanco, TX
Wednesday, September 20, 2023
I am thankful to have gotten to spend all the time together we did over the years. I will always love you and will never forget our time together. I love you Granny

MARY LASSETER
Burnet, TX
Tuesday, September 19, 2023
Our prayers are with you and your family I remember hang out with you and my mom and Erica you will be messed but never forgotten

Erica Schroeder
Devine, TX
Tuesday, September 19, 2023
You are deeply missed by everyone since you left us Friday!! Very thankful I go to spend everyday with you this past little over a month when you go out in Hospice care. I hope you're enjoying and having a great time haven enjoy those dominoe games again with nanny and daddyo!! Love you always and forever momma till we see each other again!!